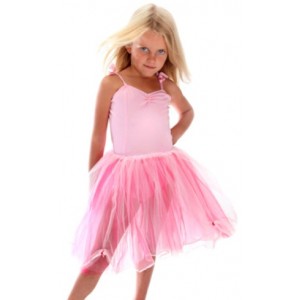 This is a beautiful ballet dress with flowers that rouche the skirt and pretty satin ribbon to tie at the waist. Perfect for a flower girl or dance. The Leotard attacted has adjustable straps and is gussetted for easy changing.
Sizing Guide:
S - 1-4yr olds, M - 4-6yr olds, L - 6-8yr olds.
Dress sizings
2 - 1-4yr olds, 4 - 3-5yr olds, 6 - 4-7yr olds, 8 - 6-9yr olds.
Based on NZ/Australian Sizing for children. The sizings are averages and may vary depending on the childs physical size and shape.
Fairy Girls Long Ballet Dress
Brand: Fairy Girls
Product Code: FG032LP4
Availability: In Stock