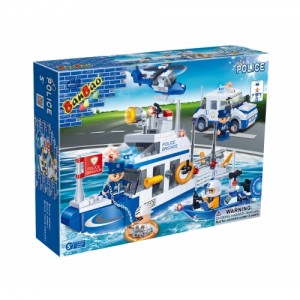 Banbao Blocks - Coast Guard Police
418 peice set
Help the Police Coast Guard keep the harbour and beach free from crime. Help to protect Banbao City.

With the police vehicle you patrol over the boulevard next to the beach. The police boat patrols the harbour and the helicopter keeps an eye on things from the sky.

This set includes the police boat, rescue boat, police car, helicopter, 3 police officers, 1 criminal and other accessories.
Suitable for children from the age of 5.
Banbao Blocks - Coast Guard Police
Brand: Banbao
Product Code: 8342
Availability: In Stock